Click HERE to view the 2020 Doodad Catalog!
Click HERE to view the 2020 Award Winner's Gallery!
Click HERE to view the 2020 virtual gallery!
Click HERE to view the walking tour video!
8th Annual Repurposed Doodad Competition is on display at the Tampa International Airport
The imagination and creative talent of Kindergarten – 12th grade students who attend public, private, charter and home schools in Hillsborough County are currently on display at the Tampa International Airport. We received 132 sculptures from 32 schools that involved 36 teachers and 310 students.

Thank you to the teachers, parents and students who've made the year's competition a success during difficult circumstances.

Thank you also to the competition judges who were entrusted to vote for the sculptures they felt best met the competition criteria.

 

Last but definitely not least, many thanks to Tampa International Airport and all our generous sponsors. Their commitment to the community helps young people to experience the importance of reusing unconventional materials while problem solving through the creative process.

For updates, periodically check our website and follow us on Facebook @AnnualDoodadCompetition.
People's Choice Awards – Made possible by a grant from Suncoast Credit Union.
We received over 2,000 texted votes! Thank you to the hundreds of people who supported their favorite sculptures.

The top 9 sculptures that received the most votes received a People's Choice Award regardless of grade level category.
Feedback about 2020 Competition 
"Thank you for putting on this program! For my homeschool kids, it fulfills a whole semester of art education (not to mention the excitement!) that we otherwise wouldn't have. We've been very impressed by how engaged and invested everyone is that we have met through DooDad. From the people there at drop off etc. the last two years. Thank you again for your commitment!" — Tonya Ledford, homeschool parent, 3/31/2020
"Thank you so much for doing this competition. It taught our children some important lessons about the needs of others and about how many bags and wrappers that are thrown away. It was an eye opener as we were collecting them for our projects too." — Kimberly Johnson, homeschool parent, 3/31/2020
"You didn't allow this virus to ruin your mission. I love the way the competition was handled so that our students could still shine! We had a great time as well, and look forward to participating next year. Thank you all!"– Debonique Grigsby, art teacher at Grady Elementary, 3/31/2020
"Doodad is indeed life changing. You all at Doodad run it beautifully. Thank you!" — Cindy Green, homeschool parent, 3/31/2020
"Thanks for all you've done and are doing. I think it's an amazing event/experience, and all the kids have worked so hard. You have gone above and beyond to make this a positive experience for all involved. I hope you're able to keep organizing the Doodad competitions. They're such a wonderful opportunity." — Nicole Humphreys, homeschool parent, 3/31/2020
Picking-Up Sculptures
Because of current health concerns and "safer at home" directives, the exhibition has no end date and is still on view at the airport.

Therefore, exhibition catalogs, award checks and teacher thank you gifts will be mailed.

A link to an online form asking follow-up questions was emailed to individuals who submitted sculptures.

Questions? Call or text Dana Warner, 813-833-4135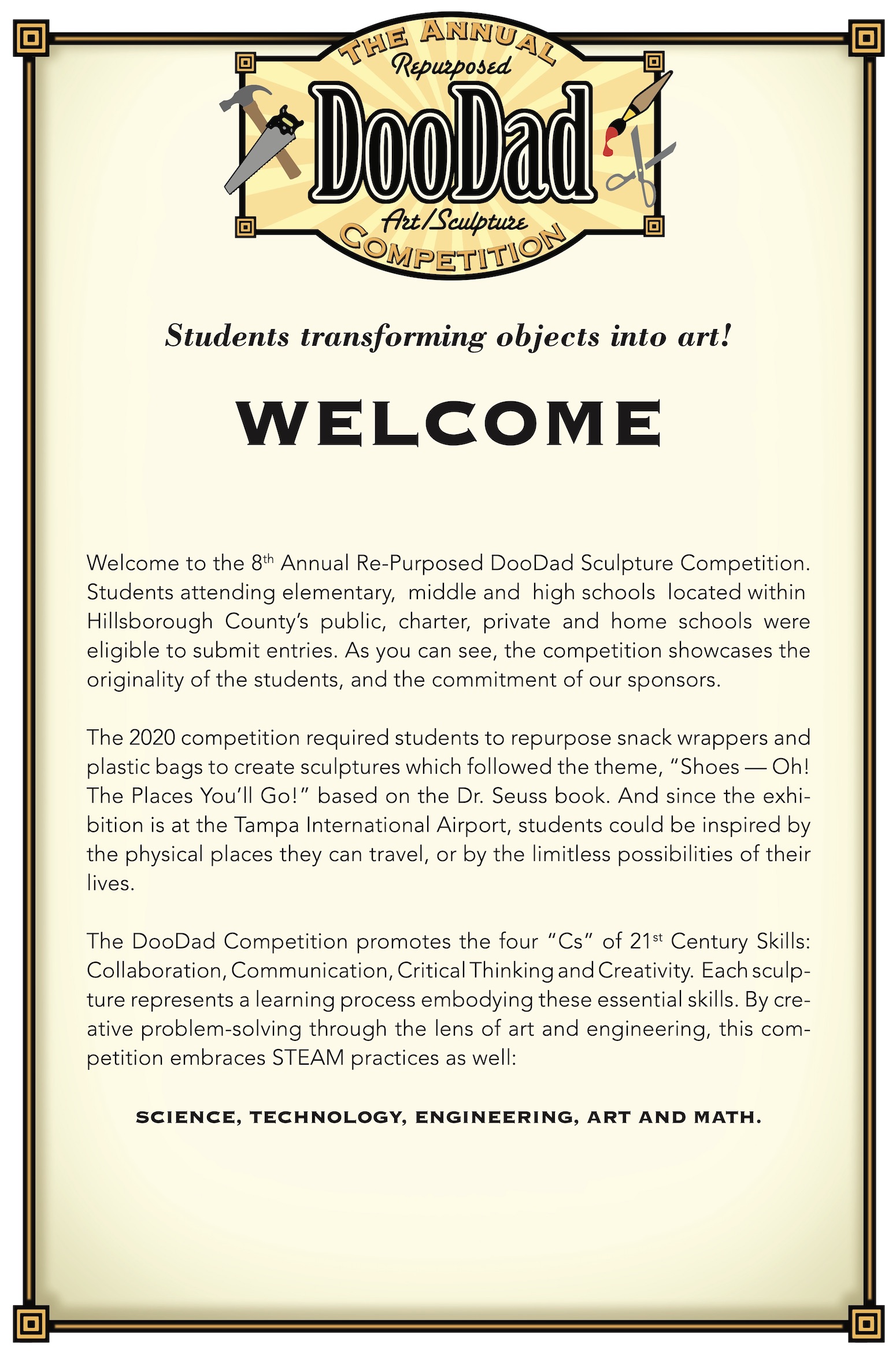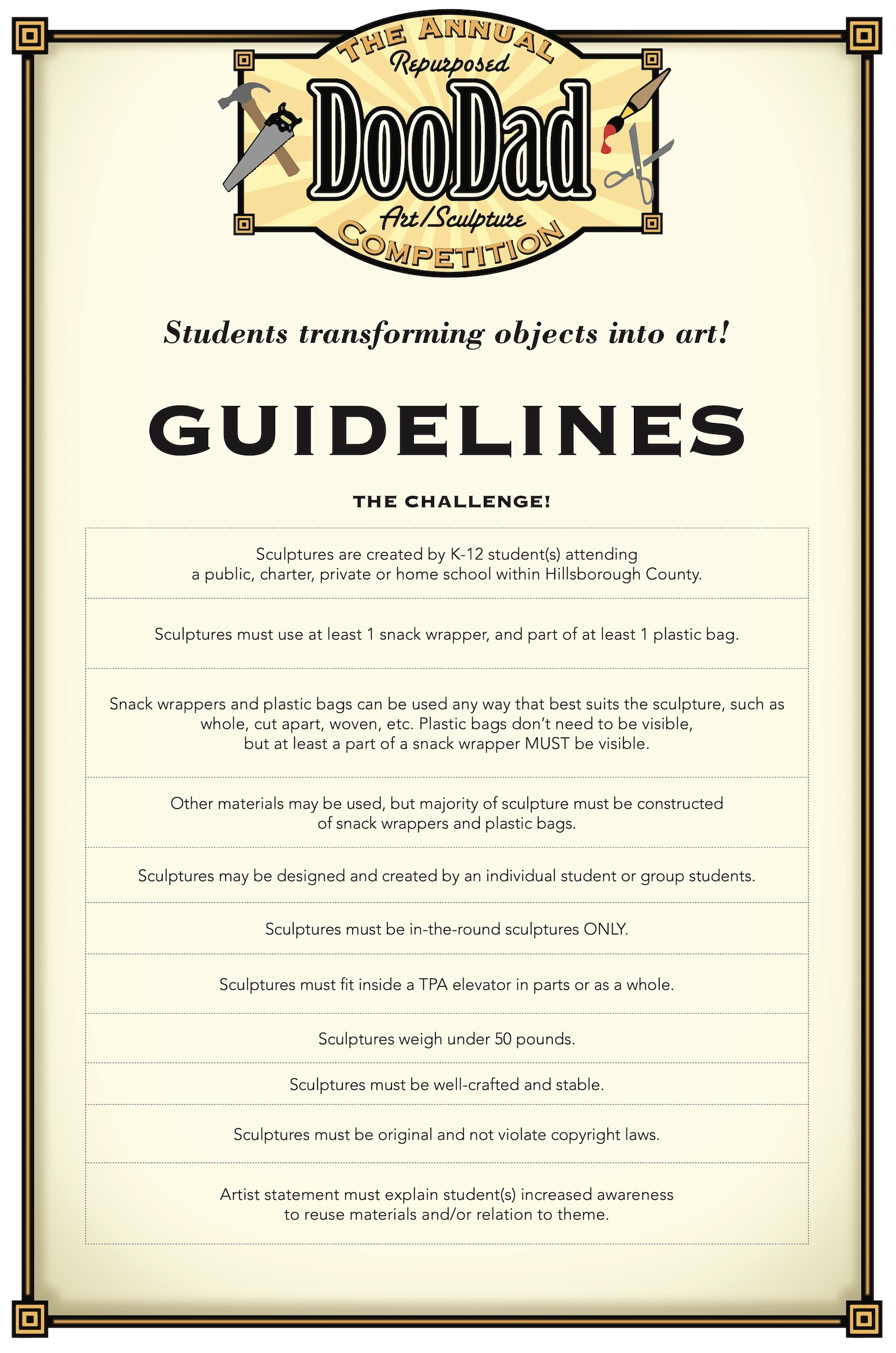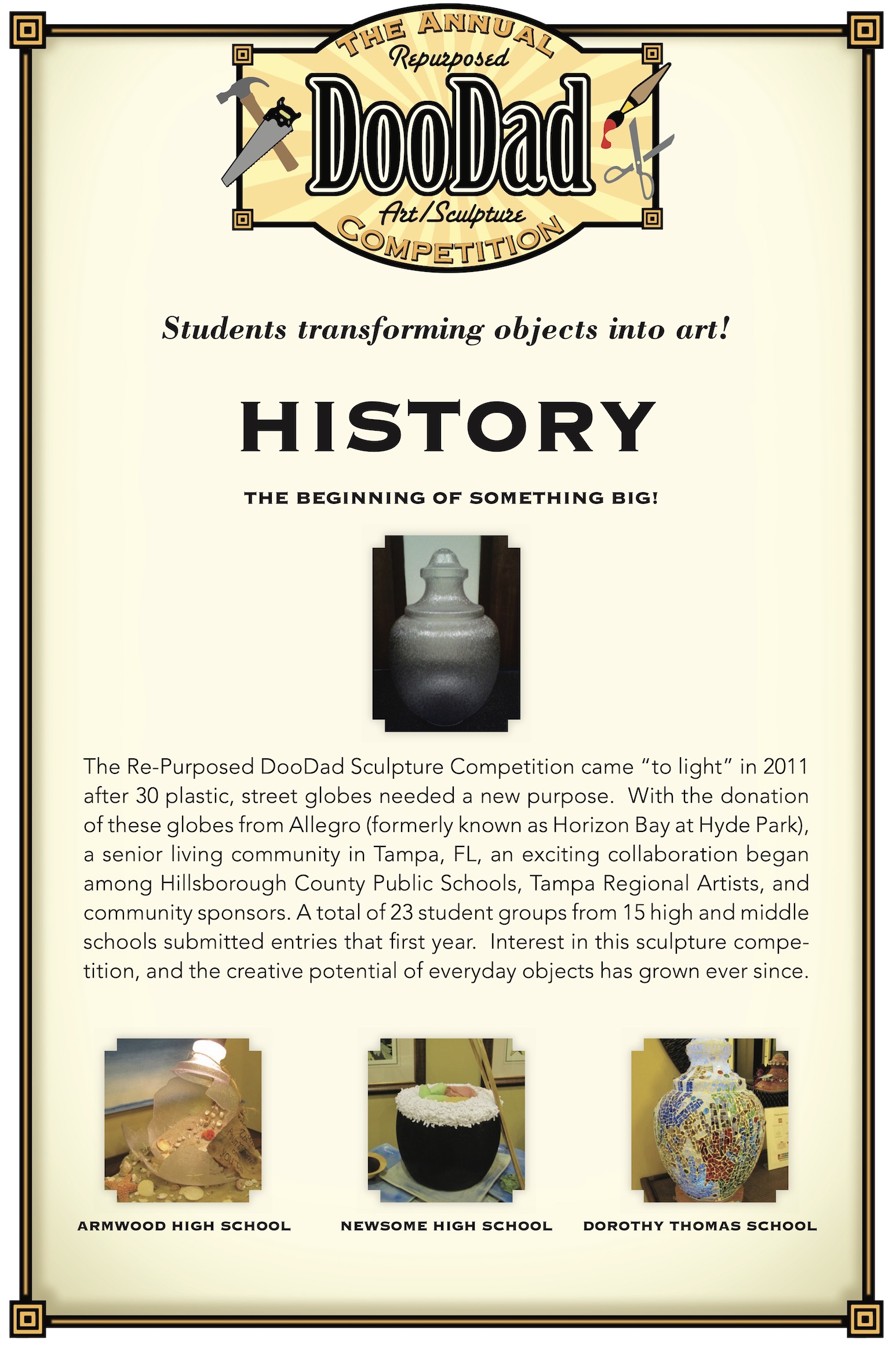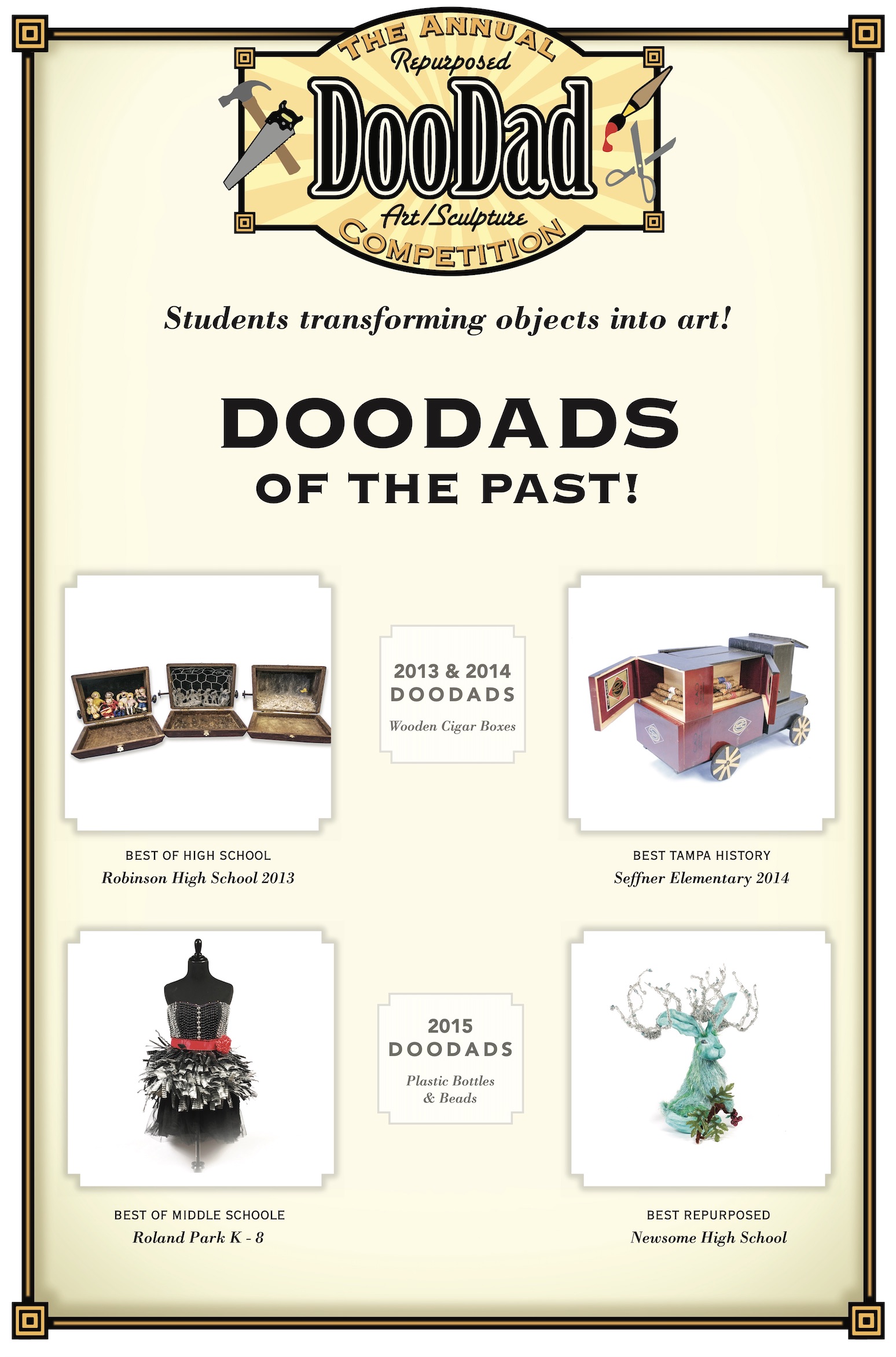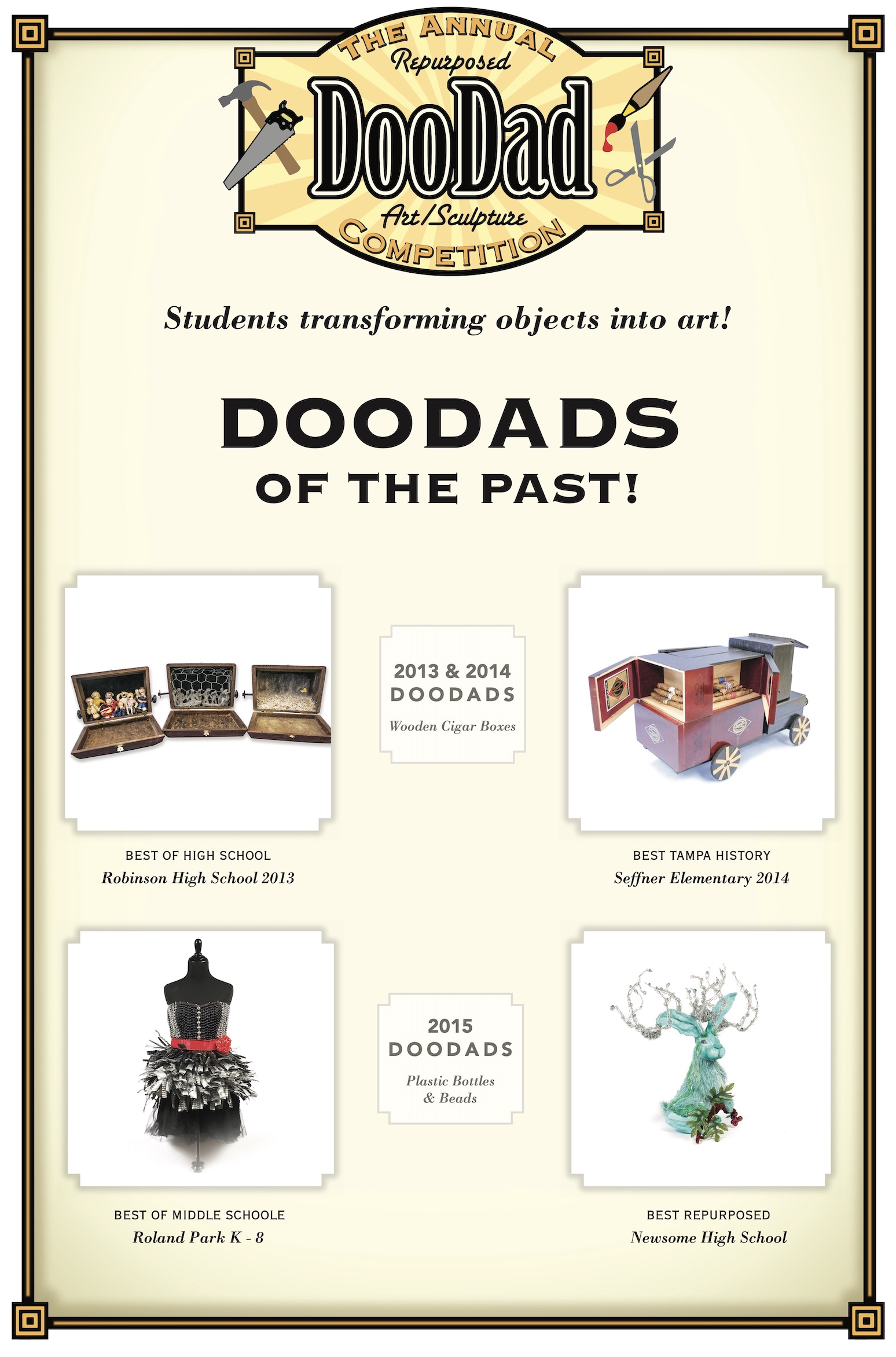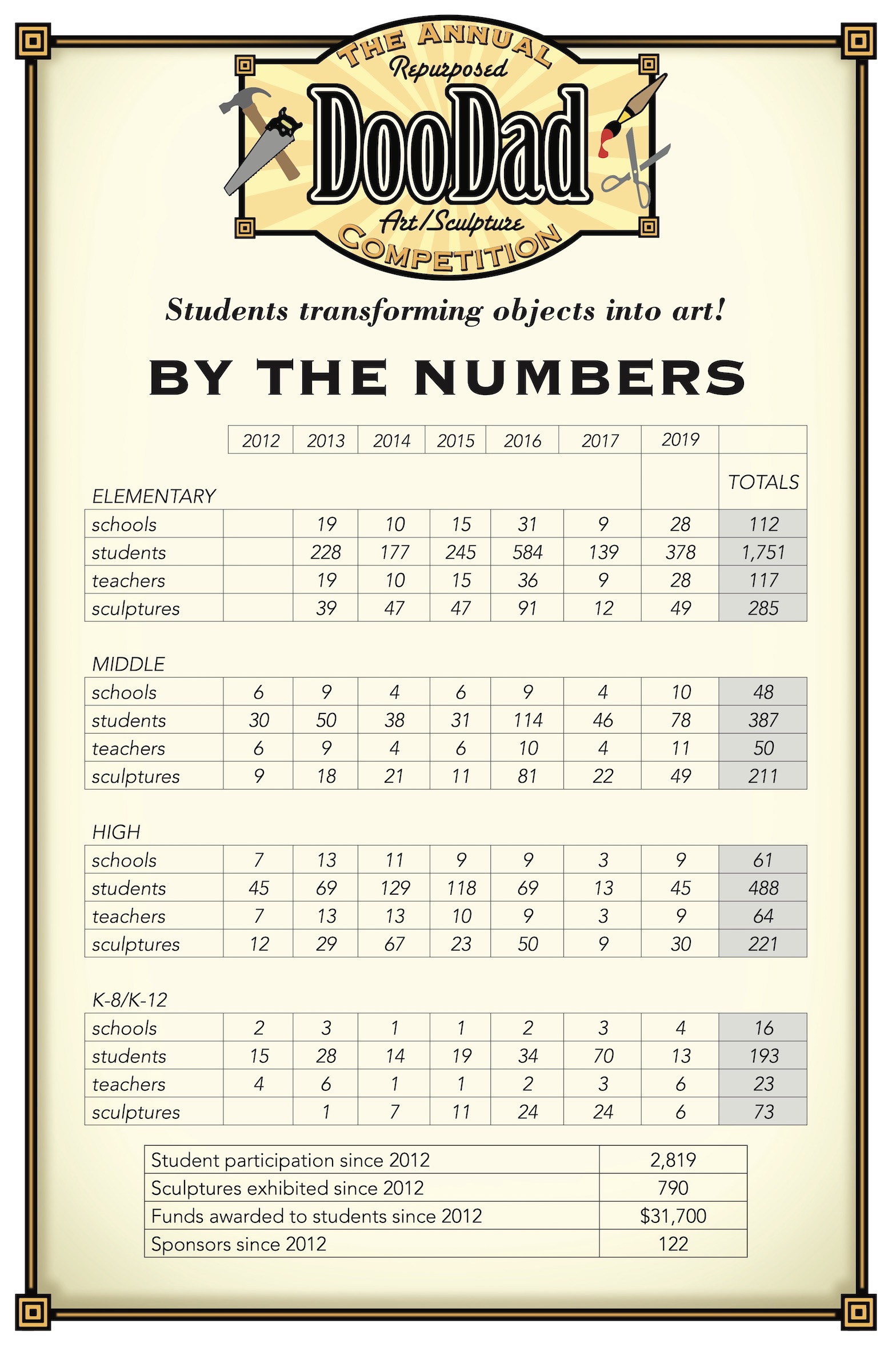 BE A 2021 SPONSOR
We're always looking for sponsors to help support this exhibition. Contact us today! doodadoftampa@gmail.com
Presenting – $3000

Platinum – $2500

People's Choice Awards – $2,500

Gold – $1000

Silver – $500

Bronze – $250

In-Kind – various

Warren Elly Award for Outstanding Art Educator – $500

Support of Title I School Involvement by providing art supplies – $300 per school
DOODADS on 83DegreesMedia
CLICK HERE to read an 83DegreesMedia article written by Caitlin Albritton and posted on February 3, 2020 about the 2020 Doodad competition and a series of free workshops held at four public libraries in Hillsborough County.
DOODADS on FOX13 NEWS
CLICK HERE to view the 3 minute FOX13 "Charlie's World" feature aired February 11, 2019 that highlights the Doodads competition exhibited during the 2019 Florida State Fair.
DOODADS VIDEO on YouTube
CLICK HERE to view the 18 minute Doodads documentary by Ethan Huggins, highlighting the successes and history of the Doodads competition. This video was featured at the 2015 Doodads Awards Reception and in the Doodads exhibit at the Tampa Bay History Center.
COPYRIGHT— Need to know more about copyright and plagiarism? Click on the image to download the Copyright and Plagiarism guide created by Scholastic Art & Writing Awards and adopted by the Doodad Coordinators.