Click

HERE

to view the 2020 virtual gallery!
And vote in the People's Choice Awards! Directions and deadline are below.
Click HERE to view the walking tour video!
And vote in the People's Choice Awards! Directions and deadline are below.
8th Annual Repurposed Doodad Competition is now on display at the Tampa International Airport!
The imagination and creative talent of Kindergarten – 12th grade students who attend public, private, charter and home schools in Hillsborough County are currently on display at the Tampa International Airport.

Thank you to the many teachers and parents who encouraged the ingenuity of these young people and delivered the sculptures to the airport.

View the entire exhibition now in the virtual gallery!

 S

ince the in-person Awards Reception has been cancelled, the award winners will be announced on our website. Please have patience as we work with our community judges to conduct their process virtually.

In the meantime, VOTE NOW in the People's Choice Awards! Directions are below.

For updates, periodically check our website and follow us on Facebook @AnnualDoodadCompetition.
People's Choice Awards – Made possible by a grant from Suncoast Credit Union.
To vote, TEXT the ENTRY CODE # of your favorite sculpture to 574-319-3370. (Note: This phone number is used to record votes only.)
Submit ONE Entry Code # per text, and ONE vote per day, please

.

Voting ends Sunday, March 29, 2020 at 9:00pm.
Picking-Up Sculptures
We're working with the airport folks to plan how and when sculptures will be picked-up after the exhibition closes.

Questions? Call or text Dana Warner, 813-833-4135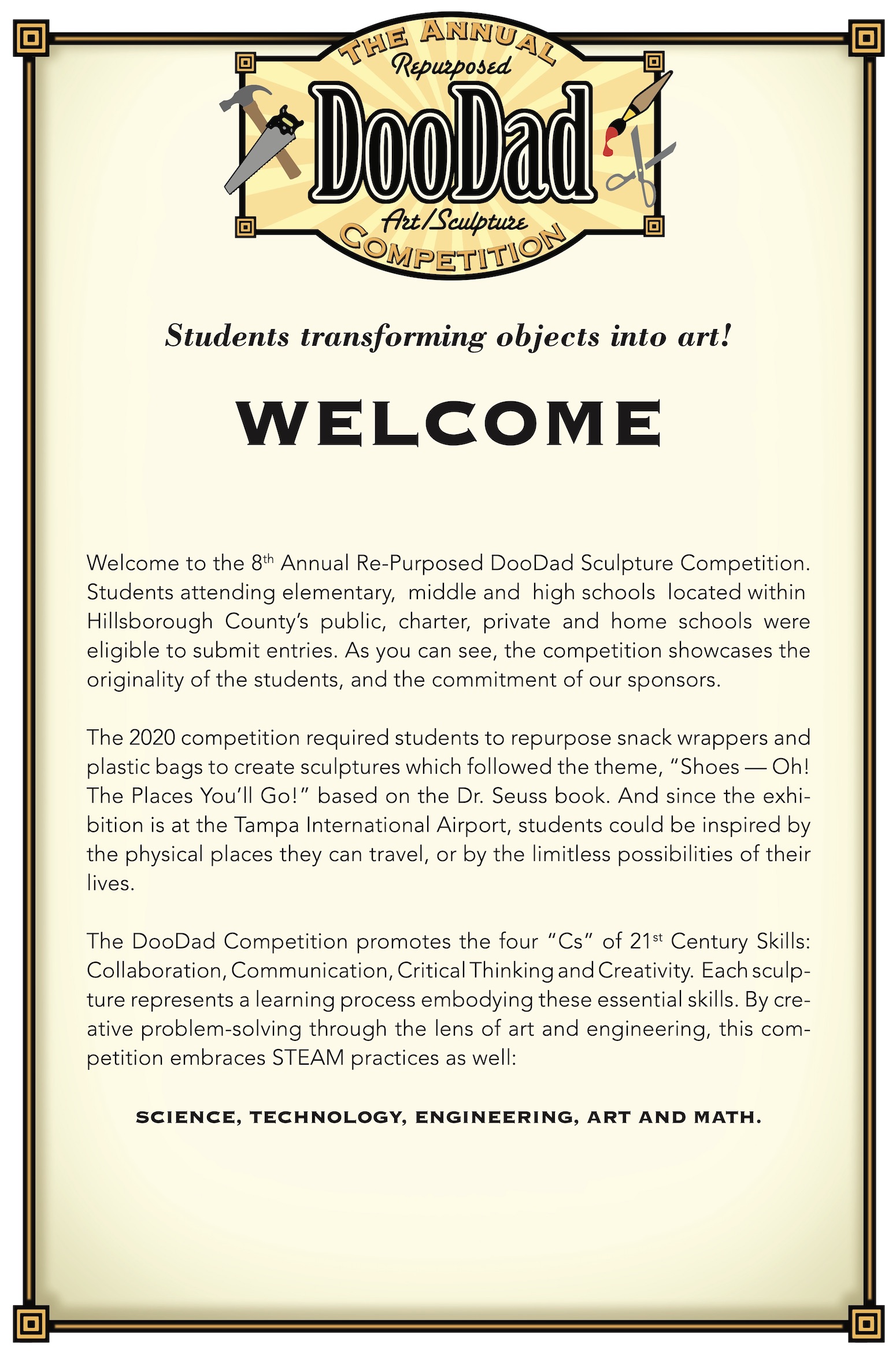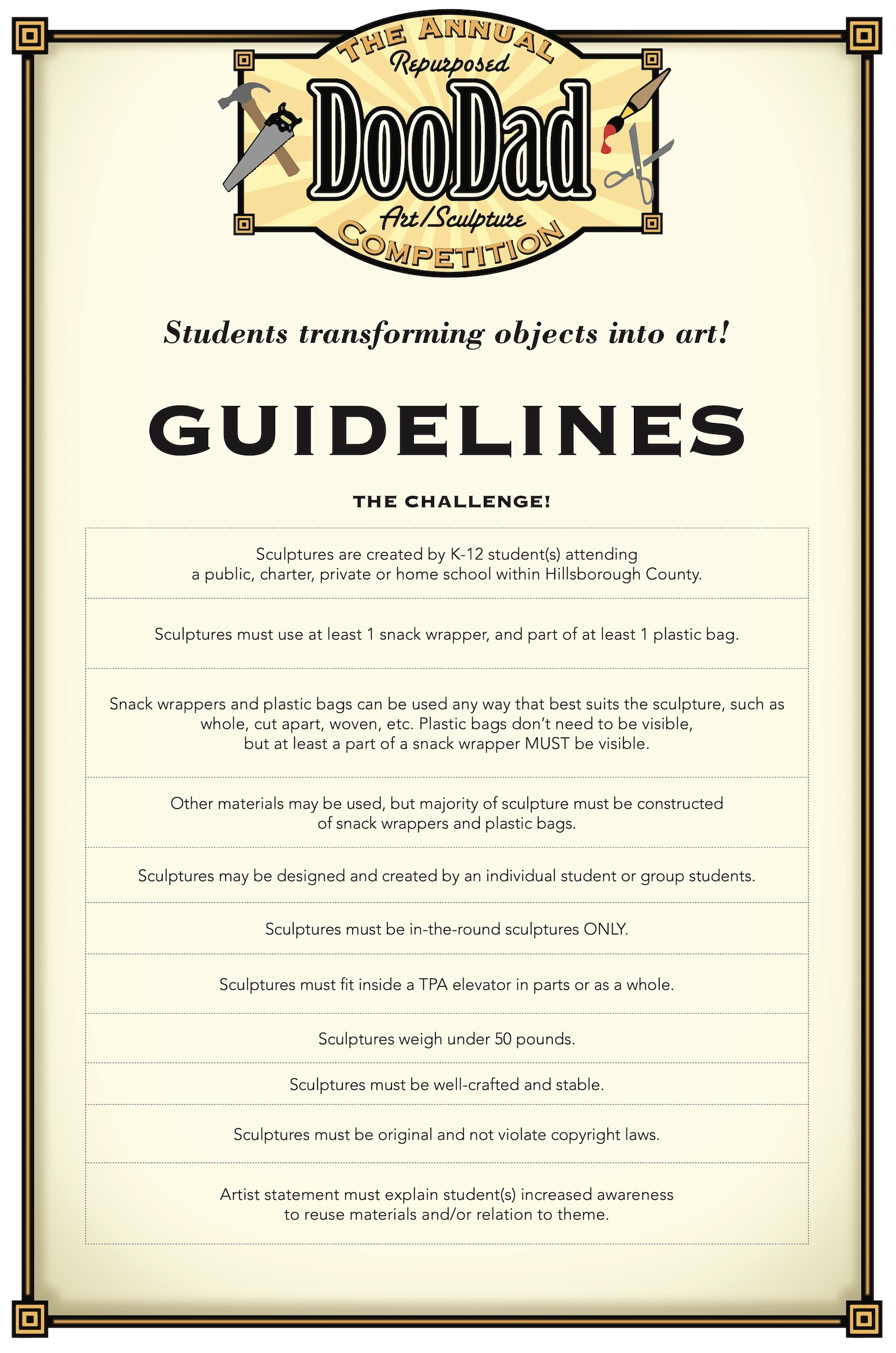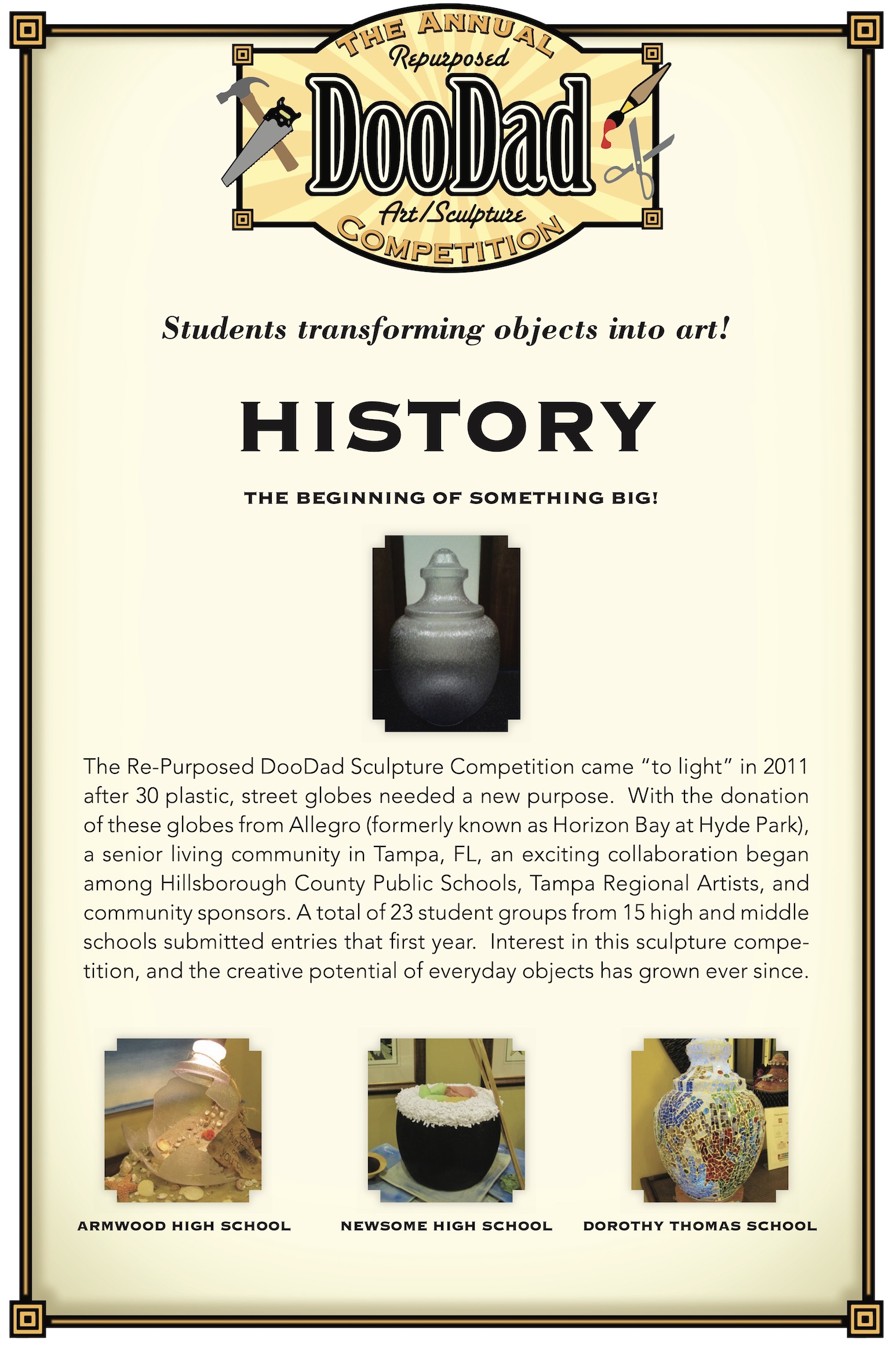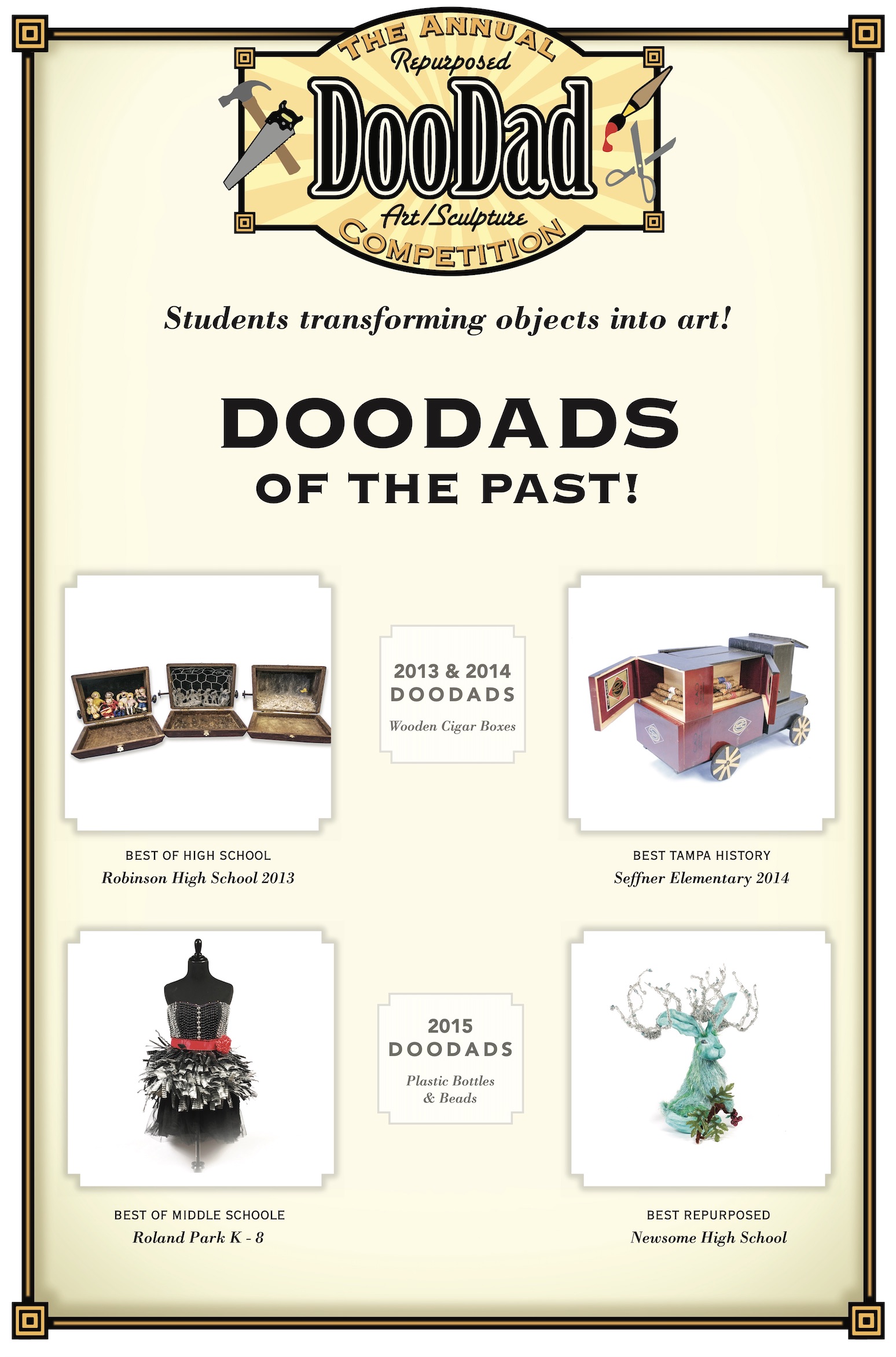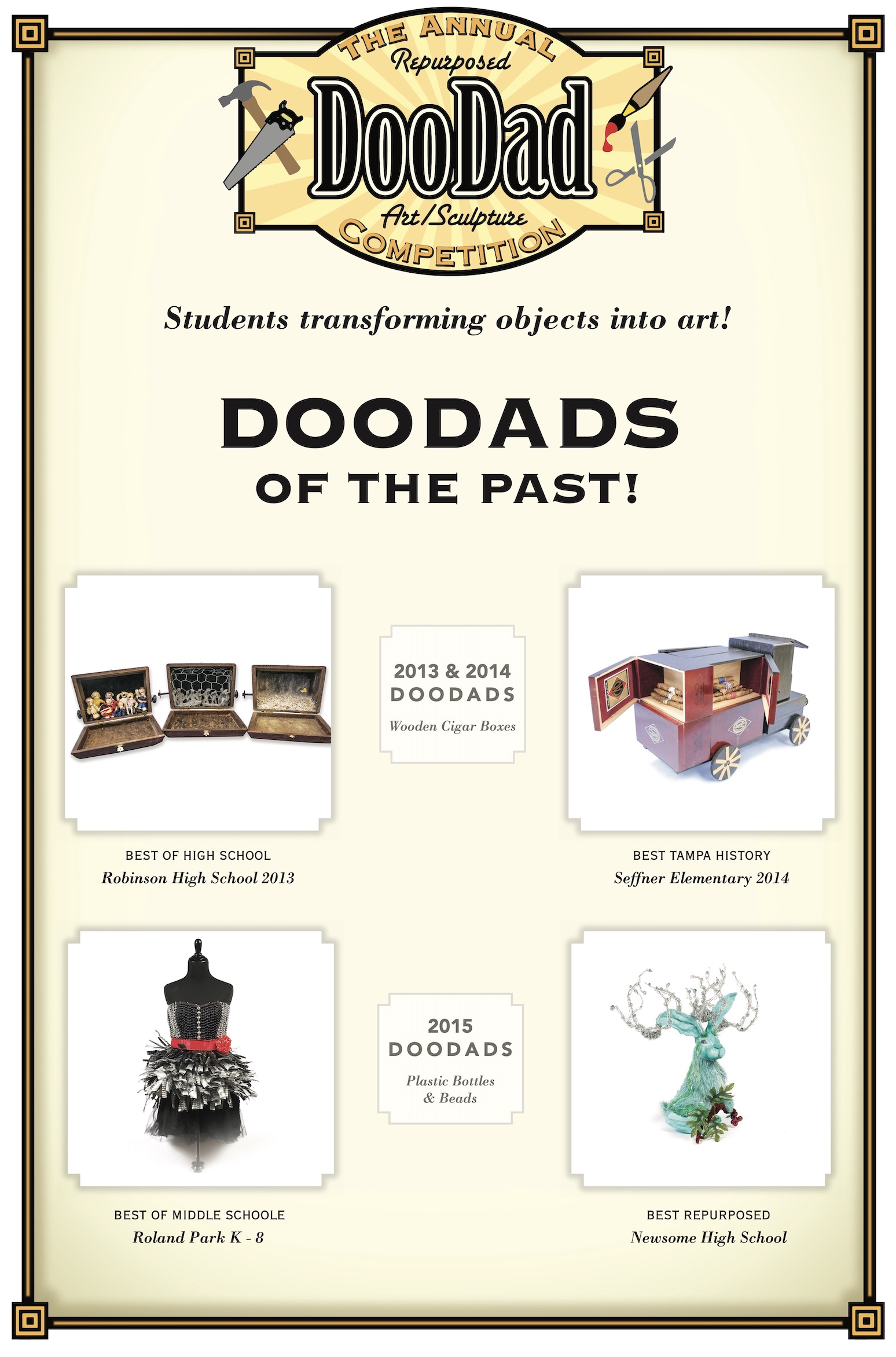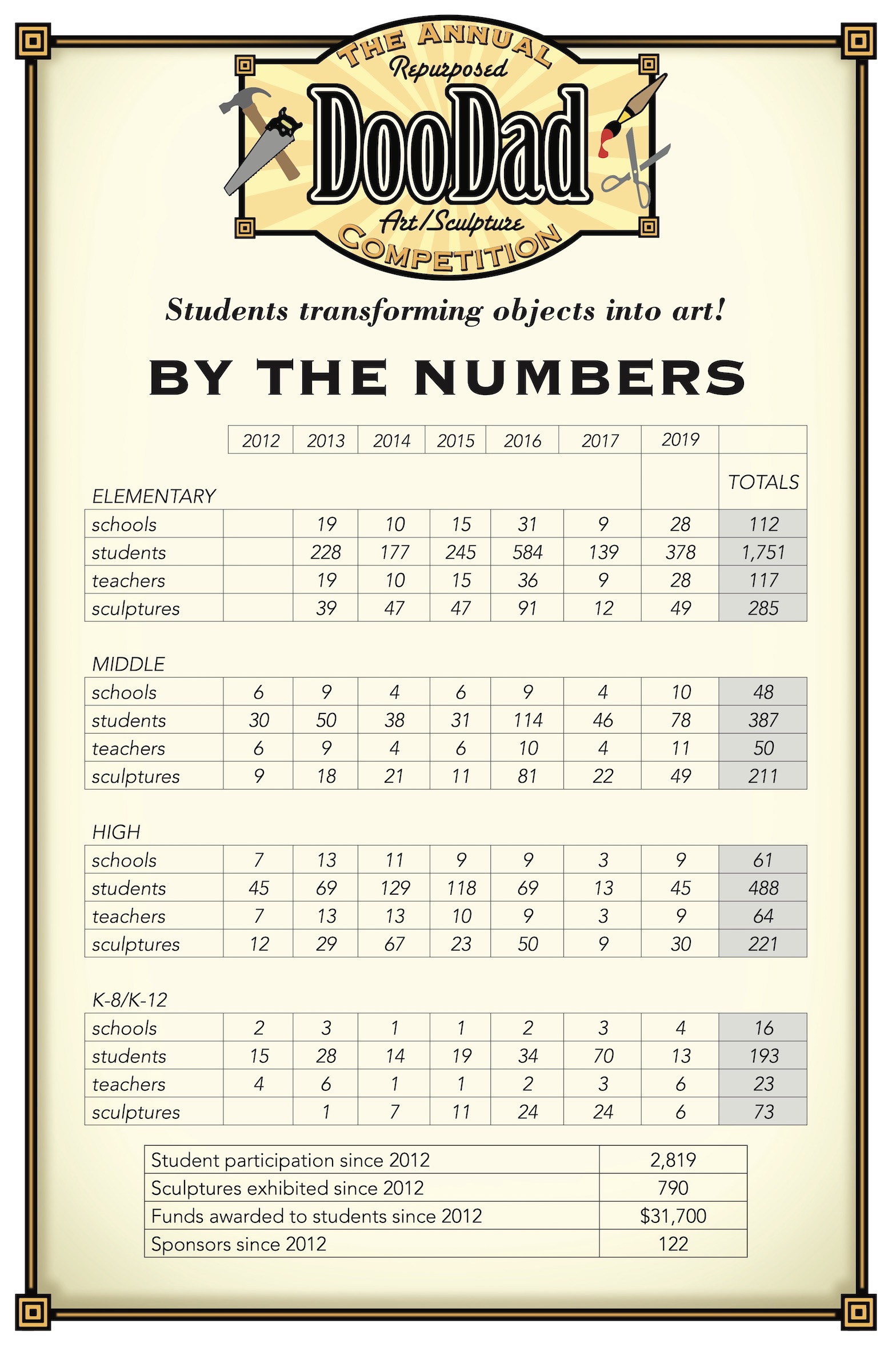 BE A 2021 SPONSOR
We're always looking for sponsors to help support this exhibition. Contact us today! doodadoftampa@gmail.com
Presenting – $3000

Platinum – $2500

People's Choice Awards – $2,500

Gold – $1000

Silver – $500

Bronze – $250

In-Kind – various

Warren Elly Award for Outstanding Art Educator – $500

Support of Title I School Involvement by providing art supplies – $300 per school
DOODADS on 83DegreesMedia
CLICK HERE to read an 83DegreesMedia article written by Caitlin Albritton and posted on February 3, 2020 about the 2020 Doodad competition and a series of free workshops held at four public libraries in Hillsborough County.
DOODADS on FOX13 NEWS
CLICK HERE to view the 3 minute FOX13 "Charlie's World" feature aired February 11, 2019 that highlights the Doodads competition exhibited during the 2019 Florida State Fair.
DOODADS VIDEO on YouTube
CLICK HERE to view the 18 minute Doodads documentary by Ethan Huggins, highlighting the successes and history of the Doodads competition. This video was featured at the 2015 Doodads Awards Reception and in the Doodads exhibit at the Tampa Bay History Center.
COPYRIGHT— Need to know more about copyright and plagiarism? Click on the image to download the Copyright and Plagiarism guide created by Scholastic Art & Writing Awards and adopted by the Doodad Coordinators.